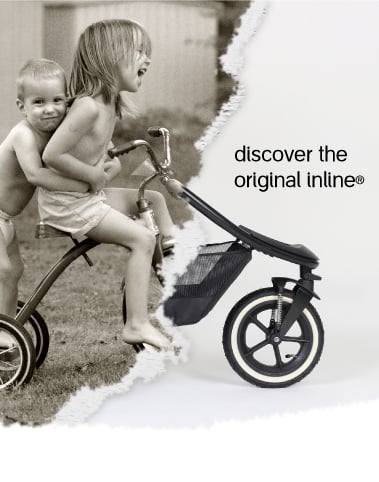 we're the original innovators of the inline® buggy
With over 20 years of constant movin' & shakin' the nursery industry with our genius inline® buggies, we've helped tens of thousands of parents around the world adapt&survive their parenting day as their families grow from 1 to 2!
We drew inspiration by the good ole kiddies trikes, where one kid always playfully stood in the back. We saw potential to bring this way of kids play to life, and make this a real handy solution for parents as they go about their adventures with kids in tow!

newborn

baby

toddler

newborn&toddler

toddler&toddler
1 buggy, 2 kids, 5 phases, loads of life...so get inline®!



why go inline® with us?
it's a FABULOUS single buggy too!
You don't have to make any of the usual sacrifices when it comes time to choose between a single or double, & you've future-proofed your purchase for your next baby (or in case of an oopsie...😉).
it's also FABULOUS inline buggy for 2!
With the handy dandy double kit™, our buggies retain their compact, single footprint – so you can take two kiddo's without having to worry about narrow doorways & crowded spaces!
little ones LOVE the double kit™ – 'cos cool kids always ride in the back!
The seat is at their own height, so they can hop in&out on their own, & lil' ones can look up at you for a bit of quiet reassurance when you're pushing the buggy (& you can see them too!). Our inline® design is SUPER easy to push, even with 2 kids!

Our clever engineers have created the ideal weight distribution & perfect centre of gravity, especially with the double kit riding low at the back, but hey, we give you options for where your kids wanna sit when in sport verso™ and voyager™ - so make it your own!​
innovative accessories just for our inline®!
Need a bouncer or carrycot stand? Don't worry about buying a whole new product... save space (& serious moolah!) by adapting the sport & voyager™ double kit™ (or sport verso™ and voyager™ main seats) into a rockin' bouncer, or raise your snug™ carrycot off the ground with lazyted™!

We've even got your back with our innovative inline® storage range, designed to be flexible for your endless need to carry more gear on your epic adventures – all inline®!
all grown up!
So your older kiddo has grown up and is way too cool to ride in the buggy now – no worries, just unclip off and BAM, you've got your single again!​

OR if you're one of the cool cats who is ridin' with go™ inline®, then you know, if your kids wanna go their separate ways with mum or dad in tow, then you can easily just split the inline® buggy up, and voila! You now have 2 smooth go™ singles – get that!
so now you know why you wanna go inline™,
now let's try & find the right buggy for you!
First, you wanna figure out whether you're wanting small and nippy for the
urban world, OR want something be able to rough it up on bigger adventures!
Umbrella buggies give you a quick&easy option for those no fuss trips in&outta town, in&out of public transport, OR just a great second buggy to have alongside your larger buggy – it's even a great option to leave at the grandparents!
A full size buggy is the way to go if you see yourself wanting the option to go urban strollin' to offroading! It's generally bigger in size, but that's 'cos they will offer more than an umbrella buggy, and the tyres are usually 12" or larger so you can tackle loads more variety of surface terrain.
now you wanna figure out if you want 3 or 4 wheels!
3 wheels
3-wheelers give you the absolute best in manoeuvrability & performance on every terrain - one handed ease that turns the buggy on a dime!

Our buggies are rigorously tested to the most stringent certifications, & stability is one that we cover with a fine tooth comb! There can be a misconception about stability, but rest assured; our 3-wheelers pass the exact same standards as 4-wheelers - including for stability!
do you want a fabric sling seat or a modular seat?
fabric sling seats are sooooooo convenient!
Not only do you have infinite recline levels for naps, the sling seat also reclines fully, creating an instant lie flat bed for your newborn right outta the box!

The seat also sits cushy inside the buggy frame & at the right height to deliver perfect weight distribution; the centre of gravity is ideal for kerb popping up & around town! You don't feel like you have to use brute force on the handlebar to lift the nose of the buggy to get over a lil kerb!

What's also handy is that when folding down, you don't need to take the seat off for a nice, neat compact buggy fold - just pack down and voila… into the car boot it goes!
modular seats give you immediate adaptability!
Not only do modular seats look really, really good on the buggy, the independent frame design gives you instant options to parent or forward face your kid, by simply switching the seat around! ​
​
Modular seats recline damn easy too with one hand, & only some have the bonus of being able to lie flat which is perfect for newborn – this is a huge win, as then you don't need to spend so much on the buggy stuff & focus on the rest of your baby checklist!

Modular seats do tend to sit higher on the buggy frame - you can still pop up kerbs easily, you just have a different feel and weight required to lift the nose up.

Our modulars can fold down with the seat on (some brands you can't!), but if you want a more compact fold to pop away, you have the option to take the seat off - the choice is yours!
which tyres fit with your lifestyle?
12" air filled tyres
True, air filled tyres deliver the best form of all terrain adventure! Offering real bounce, topped with the buggy suspension, they deliver superior cushioning over all terrain... including plenty of rough stuff. And, like any good mountain bike, you'll need to maintain tyre pressure (and maybe fix a rare flat) to ensure optimum ride on all your adventures!
12" aeromaxx™ tyres
This innovative blend of tyre offers the best of both worlds! Not as rough and tumble as air tyres but delivering a bit more bounce than aerotech. The 12" rear aeromaxx tyres glide over the smooth or rough… without the maintenance!
2 x aeromaxx™ rear tyres
2 x EVA front tyres
so whatcha waiting for? get inline®!